Balsam Trail, McKellar, Ontario
Centre Road/Balsam Road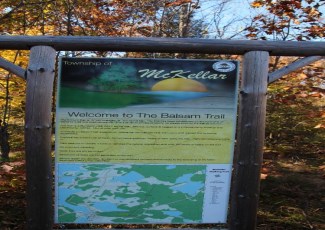 Whitestone Lake Recreational Trail, Whitestone, Ontario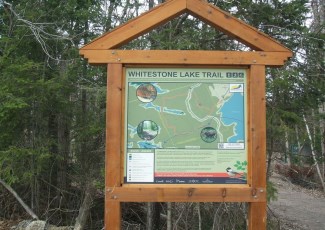 The Whitestone Lake Recreational Trail is located at the northwest end of Whitestone Lake and can be accessed from a parking area at the entrance to North Meadowcove Road a few kilometres outside of Dunchurch. Please do not park on North Meadowcove Road as it blocks the residents that use the road and makes it difficult for road maintenance and winter plowing operations.
The 3.5 km looped trail is rugged in sections and requires sturdy footwear. Flip flops are not recommended. A steep climb takes hikers to the top of a ridge that overlooks Whitestone Lake. The view isn't great as it is filtered by the tall trees that line the ridge, but the open granite at the top makes a nice spot to stop for a snack. That is, unless you are visiting the trail in blackfly season: ; if that is the case, the advice is to KEEP MOVING! Hikers are reminded to stay on the marked trail and be mindful of private property that lies adjacent to some parts of the trail. For more information please checkout this helpful link.
Nesbitt Trail, Whitestone, Ontario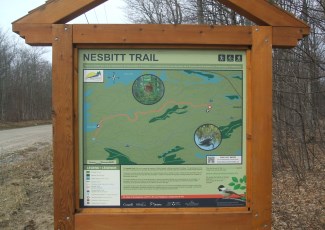 Nesbitt Trail
The Nesbitt Trail is located just west of the town of Ardbeg off Clear Lake Road. Although geographically close to the Whitestone Lake Trail, the ecology is markedly different. This linear trail is 2.5 km one-way and traverses a much rockier terrain. Recent forestry operations have altered the landscape to the north of the trail and are a good reminder that the forest is a shared resource that benefits the region in many ways. The trail is named in memory of Ricky Nesbitt who was a life-long resident of Ardbeg.For more information please checkout this helpful link.
Rotary and Algonquin Regiment Waterfront Fitness Trail, Parry Sound, Ontario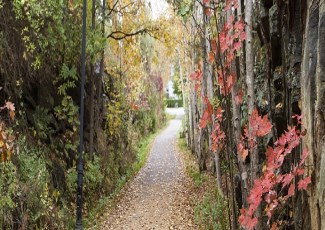 Run, stroll or bike along the 6 km waterfront trail hugging the shores of Georgian Bay, known locally as "the fitness trail".
Follow the pink granite path along the waterfront, and enjoy the amenities of 5 fitness stations. Learn about our community at the various interpretive plaques: the Algonquin Regiment memorial, the Shrine Club monument and the Rotary monument plaques.
There are various access points to the trail, and include Champagne Street, Great North Road, the Town Dock, Charles W. Stockey Centre, Sail Parry Sound, Waubuno Beach and the Salt Dock.
Picnic areas, benches and "poop and scoop" receptacles are located along the trail.
North Shore Rugged Hiking Trail, Parry Sound, Ontario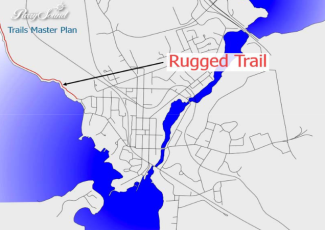 Are you looking for more of challenge than the Fitness Trail? The North Shore Rugged Hiking Trail is a rugged 2.5km trail located on the road-shore allowance of the Town's Salt Dock Wharf, to the Municipality of McDougall municipal boundary.
Due to the rugged nature of the shoreline, the trail is a "Rugged Use Only" hiking trail.
Challenge your skills by exploring this trail, overlooking beautiful Georgian Bay.